Mobile App
A mobile application that cancels out the distance between the dispatch station and the driver's cab. With one click, send instructions from Tasha to drivers' mobile phones or tablets.
It's just as easy to find out what's happening on the route right now. This is how the omniscient God has it arranged.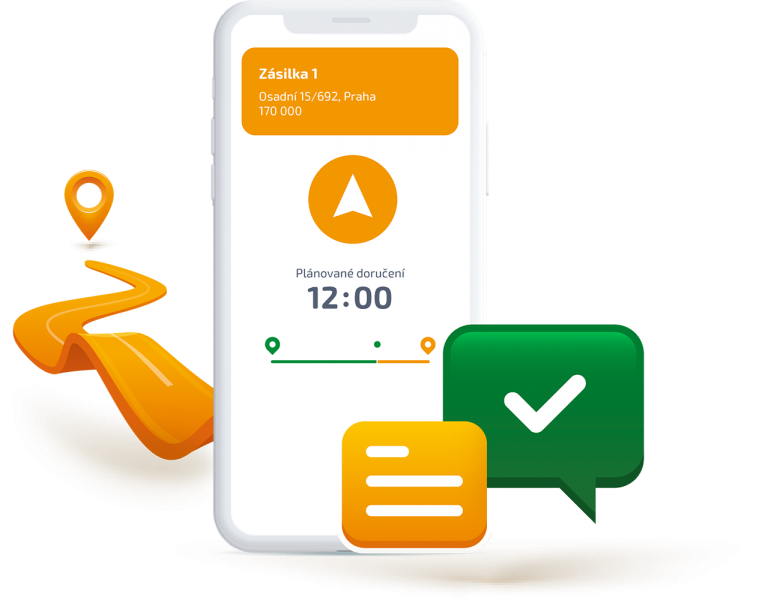 Who will benefit from Mobile App?
Anyone who requires full and easy communication between dispatcher and driver.
Benefits for management and dispatchers
Increasing the flexibility and capacity of the control room
Easy and fast driver coordination
Immediate sending of tasks and their changes to the driver
Perfect overview of vehicle position, tasks and performance
Immediate access to loading and unloading times, handover protocols or photographs of damaged goods
Possibility to write a note
Possibility to record the number of returned packages
Accelerate invoicing
Benefits for customer support staff and invoicers
A perfect overview of vehicle positions on routes
Knowledge of arrival times
Overview of (non)delivered items and contracts
Accelerating the flow of confirmed packing slips, speeding up invoicing
Benefits for drivers in the field
Perfect description of route, orders and customers
Flash start navigation on cleared GPS coordinate
Radical reduction in paper administration behind the wheel
Fast-start a call to a specific customer
Option to write notes and take photos for orders
More calm behind the wheel
Delivery services
Wholesale
Food producers
Waste companies
Distributors
E-shops
Principle
Mobile App fundamentally facilitates communication between dispatcher and driver. The dispatcher works with the Solvertech Tasha scheduling desktop app and driver with the mobile app. Mobile App can supplies the dispatcher with information about the current position of the vehicle (the driver's phone) and the state of the contract, the driver about the tasks, addresses and routes to them. It keeps both sides in the closest contact with reality.
The most common situations in which Mobile App excels:
Quick start of navigation to the customer
Elimination of paper route lists
Photographic documentation of damaged packages for complaint purposes
Records of packaging materials collection
Quick overview of (un) delivered shipments along the route
Immediate sending of handover protocols and delivery notes speeds up invoicing
Connection of Tasha and Mobile App application
The dispatcher exports a scheduled route from Tasha to a mobile application installed on the driver's mobile device with a single click. Then, in its web application Ecofleet, it can track what is happening on the ground and intervene in it, if necessary: modify, modify, add, or remove tasks. Each change sends an automatic notification to the other side, so it can't be overlooked.
Drivers are shown tasks in the order in which they are to be performed. Click to start navigation or start a call to a dispatcher or customer. Easily retrieve EAN and QR codes, send information about the receipt of packaging materials, take and send documentation photos, complete the delivery protocol or packing slip, sign it and then send it to the customer's e-mail or own invoicing department.
The application presents the data so that both the dispatcher and driver can work with it immediately and without problems.
Operating in the field requires a mobile data connection. The data transmission is encrypted. The daily volume of data transmitted depends on the type of documentation (photograph), usually megabyte units.
Installation Options
EcoFleet Mobile App can be purchased with desktop Tasha app at any time. We will install within a week of your order.
Savings
Reducing the cost of dispatcher-driver and driver-customer communication, end of paperwork.
Complete task overview
Detailed order list in optimized order.
Activity log
A perfect overview of task status, time and geolocation track, automatic time and task coordinates notation, journey log.
Demarcation of permitted/prohibited areas
Plus an automatic message to the dispatcher on their exit/breach.
Photodocumentation
Possibility of attaching photographs to contracts, e.g. proof of delivery or damage to goods.
Navigating to your destination
Quick-start Google Maps, Waze, Apple Maps, HERE WeGo, Sygic and other navigation applications.
Automatic Reports
Sending logs and delivery notes to the customer, invoicing or dispatcher. Faster clearance of order.
Personalization
Setting custom forms, task states, or button names (paid edit).
Price
You pay a monthly fee for using the Mobile Application depending on the range of services and the number of accounts (users/mobile devices).
We offer personalized settings for specific data and additional functions, reportmaking, area definitions, data bridges to external systems, etc.
How to implement Mobile App
We will take care of everything and explain the controls.
Convenient installation
We're setting up the Ecofleet remotely. You can download the app to your mobile from the Google Play/App Store.
Smooth Link to Tasha System
Ecofleet continues where Tasha ends. Leave the connection to us.
Training
Personally or online.
7-day test with free hard data
Two accounts for the driver, one for the dispatcher. Task Management function including GPS tracking. Give it a try and decide in peace.
Facilitate the dispatcher's contact with drivers
Let's make an appointment.

We'll arrive, introduce Mobile App and answer questions.


We will install it remotely and connect it with the Tasha system.

You will use and analyse for 7 days free of charge.

After 7 days, you can stop using it free of charge or continue it smoothly with paid version.

We will be 100% available to you with advice and help at all times.
Any questions?
Call +420 39 671 003 or use the chat.
Speed up, discount. Earn more.