Freya
Freya is not just a mobile app for drivers. It is also a clear and accessible portal for managers / dispatchers / customer service, where you can see all current routes under the microscope.
After the optimization is complete, you can send planned routes directly from Tasha or from anywhere via the API. In this way, the driver knows exactly what awaits him that day, and the dispatcher or manager can monitor the current location of all drivers, the percentage of orders delivered, or the reasons for non-delivery.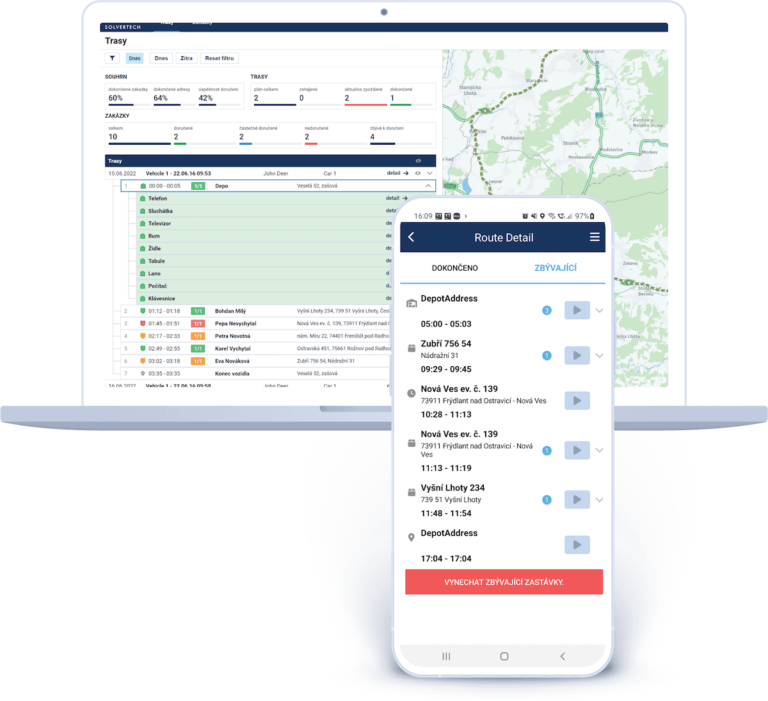 What does Freya bring you?
Simplifying work for drivers and perfect control over what is happening right now and where. Freya allows you to respond flexibly to your customers' requests without unnecessary bureaucracy, dozens of e-mails or even printed instructions. Try the demo today.
Benefits for managers
Detailed data to evaluate driver performance and route costs
Better customer service
Increasing the capacity of the control room
Control over own and external carriers
Support for autonomous planning
Automation of invoicing
Benefits for dispatchers
Information about delivered and undelivered orders
Tracking the course of route deviations
Current location of vehicles
Overview of packaging collection
Overviews of unloading / loading times
Possibility of immediate route update
Benefits for drivers
Quick connection to the dispatcher centre
Customized customer SMS messages including templates
Card payment via phone
Route itinerary, list of customers and items to be delivered / picked up
Digital handover protocols including photos and signatures
Loading and dispensing via EAN / QR code
Connection with preferred mobile navigation
Planned routes can be sent via restAPI from anywhere or they can be created directly in the portal*
Everything that can be seen in the portal is also available to the driver
In the event of a driver data outage, the mobile application saves everything in offline mode and sends it immediately after connection
Updated information about the status of the order can be continuously downloaded via API to your system, enabling, for example, the immediate sending of an invoice to the client
In the event of a driver data outage, the mobile application saves everything in offline mode and sends it immediately after connection
The mobile application is available via Google Play and can also be installed directly in Smart payment terminals
The portal is optimized for all common browsers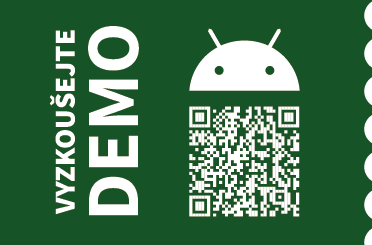 Savings

Reduction of dispatcher-driver and driver-customer communication costs, no more paperwork.

Complete task overview

Detailed order list in optimized order.

Activity Log

Perfect overview of the status of tasks, time and geolocation tracking, automatic recording of time and coordinates of actions, log book.

Photo documentation and client signature*

Ability to attach photos to orders, e.g. proof of delivery or damage to goods.

QR/bar codes*

For storing and removing orders, including notification if you are trying to remove the wrong package.

Navigation to destination

Quick Launch Map List, Google Maps, Waze, Apple Maps, HERE WeGo, Sygic and other navigation apps.

Automation of reports

Thanks to the continuous update of the order status, you can send reports, delivery notes or invoices from your system immediately after delivery.

Personalization

Setting up custom forms with options: – read-only, – editing by the driver mandatory to complete the task*, – editing by the driver optional.
Pricing Start
You pay a monthly fee to use the Freya app based on the scope of services and the number of accounts (users/mobile devices).
Freya Start version

You can start driving with the Start version today. It has everything you need for efficient delivery management. Choose the Premium version to support QR and barcodes or card payments.
How to implement Freya
We will take care of everything, we will explain the controls.
Convenient installation
We will create an account for you remotely. You can download the mobile application from Google Play. You manage the users yourself.

Seamless connection with the Tasha system
Freya picks up where Tasha leaves off. Leave the connection to us. If you need to connect to another system, we will send a link and access data to the Swagger documentation upon request.

Training
Thanks to the well-thought-out and simple design, no driver training is required and the use is completely intuitive. Users of the portal will learn to work with it in a few minutes.

Free monthly test with sharp data
Two accounts for drivers, and an account for dispatchers, managers and call center. Try it and make up your mind.
Do you have questions?
Call +420 775 865 185, send e-mail to info@solvertech.com or use the chat.
Speed up, discount. Earn more.