MP Krásno, a.s.
The 5th largest Czech producer of sausages and meat products from the very heart of Wallachia.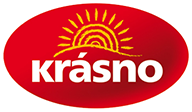 In a short time, the small, outdated local establishment in the heart of Wallachia has become a modern enterprise, which has taken its place among the 5 largest Czech producers of meat and meat products. The company has invested heavily in the modernization of production, with all investments being made to meet strict European standards.
Products from Krásno can currently be found in a number of retail chains and retail chains, as well as on the counters of specialized butchers. The company is expanding to the Slovak and Hungarian markets.